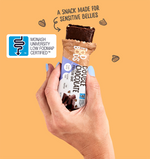 OUR MISSION: LET YOU BE FREE TO LIVE YOUR BEST LIFE
At Fodbods we're on a mission to fill the world with delicious, healthy snacks that won't upset your tummy. Every ingredient in Fodbods bars has been carefully selected to provide optimal nutritional benefit. Clean and natural, our bars have been thoroughly researched and tested so you can trust that they'll make you feel great. Best of all, they taste incredible! Fodbods are the perfect snack for everyone to enjoy, at any time of day.
MEET THE FODBODS DREAM TEAM
Say hello to our founder, Vanessa
Vanessa was introduced to the low FODMAP diet after years of experiencing gut issues and it completely transformed her life, inspiring her to help others make the same change.
Vanessa has had a pretty diverse career – she started as a lawyer, then moved into finance, then operations at a startup. She now spends all of her time on Fodbods and being a mum to baby Oscar.
Vanessa loves snacking (at least 3 Fodbods a day), coffee, running and yoga. She also loves travelling to new places.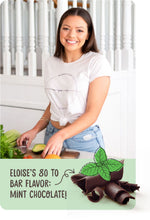 Meet our Brand Manager, Eloise
Eloise is Fodbods' Head of Content. She's passionate about all things health and nutrition, and absolutely loves cooking. She creates our yummy FODMAP friendly recipes, researches and writes informative blog posts, assists with new product development, and of course, eats her body weight in Fodbods!
Eloise has been an Accredited Practicing Dietitian and Nutritionist since 2019. Having worked with patients to help manage their IBS, she has a tonne of experience with the low FODMAP diet.
In her spare time, you can find her at the local farmer's markets, at the pilates studio, watching movies, or reading a book in the sun.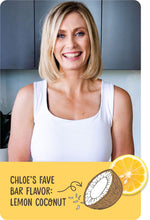 Meet OUR Dietitian Advisor, CHLOE
Chloe is Fodbods' Nutrition Advisor. She is an Accredited Practicing Dietitian and Advanced Sports Dietitian, specialising in food intolerances and IBS. She has a tonne of incredible experience, including founding the online nutrition program 'The FODMAP Challenge'.
Here at Fodbods, Chloe assists with new product development – helping ensure that all of our products are not only delicious and gut friendly, but incredibly healthy.
On top of being a mum to two gorgeous girls and super business woman, Chloe enjoys pilates classes, going out for meals and experimenting with new recipes and cuisines.